Dear Reader,
Welcome!  Thanks for visiting my website, and I hope you enjoy the books.
Standalone Novel
-Huron Breeze (Lake Huron-Private Investigator Mystery)
The Great Lakes Saga
I have always thought that the Great Lakes region, beautiful and rich with history, would provide the perfect place to set stories. My approach for the 5-book saga is to tell one story set on or around each Great Lake. Don't let the different genres dissuade you. The books are all summer reads full of drama, tension, betrayal, murder, lust, romance, mystery, and suspense.
The Books
-The Wreck (Lake Huron-Sea Adventure)
-The Sail (Lake Superior-Sea Adventure)
-The Cabin (Lake Ontario-Espionage Thriller)
-The Hike (Lake Erie-Crime Thriller)
-The Bay (Lake Michigan-Sea Adventure-available in 2022)
Connect
For NEW RELEASES, DISCOUNTS and UPDATES, join my e-mail list at the bottom of this page.
FOLLOW ME on Amazon, BookBub, Goodreads, Facebook, Twitter, Instagram, and/or Pinterest (links are below).
CONTACT ME directly at landonbeachbooks@gmail.com.
Warm Regards,
L.B.
---
"An exhilarating, can't miss, one-sit read that'll stay with you long after turning the final page!" - Ryan Steck, The Real Book Spy
Ten years ago, legendary author Riley Cannon produced three of the best-selling thriller novels of all-time. Then, she vanished, leaving the final three books of the saga unfinished and producing the biggest mystery in the history of publishing. Now, a decade later, there is word from her mega-agent, the glamorous and powerful Topaz Kennedy, that a new Cannon novel is all-but-finished. But, Topaz knows the truth: Riley Cannon hasn't even started the book. With the clock counting down to the publication date, desperate measures are needed…
Meanwhile, in the sunrise-side town of Hampstead, Michigan, thirty-five-year-old Kaj Reynard emerges from Lake Huron on a cool June night and falls face down on the beach next to a fading bonfire—with a knife stuck in his back. Who murdered him? And why?
Enter veteran Hampstead P.I. Obadiah Ben-David, a man who has never taken on a case that he couldn't solve. But this mystery is different. The only piece of evidence is the knife, which has no prints. Not a soul saw or heard a boat that night, and the woman sitting by her bonfire did not see anyone else in the water. It is almost as if the deep blue waters of Lake Huron killed Kaj Reynard, and the Huron breezes blew him to shore.
With Hampstead in jeopardy of losing its summer revenue from vacationers who are chilled to their bones of a murderer on the loose, Ben-David takes on an apprentice—a computer coder, Rachel Roberts, who lives down the beach from where Kaj came ashore. Bored by her solitary existence behind a screen all day, Rachel thinks that becoming a P.I. would be a welcome sea change in her own life. But neither of them can foresee the tangled web of lies, treachery, and danger they will encounter.
For when the summer Huron breezes arrive, the blood boils, the inhibitions disappear, and no one is safe.
If you are a fan of James Patterson, Janet Evanovich, Robert B. Parker, Louise Penny, Michael Connelly, Nora Roberts, John D. MacDonald, Lisa Gardner, John Grisham's Camino series, or the TV series Castle, you'll enjoy Huron Breeze and Landon Beach's Great Lakes Saga.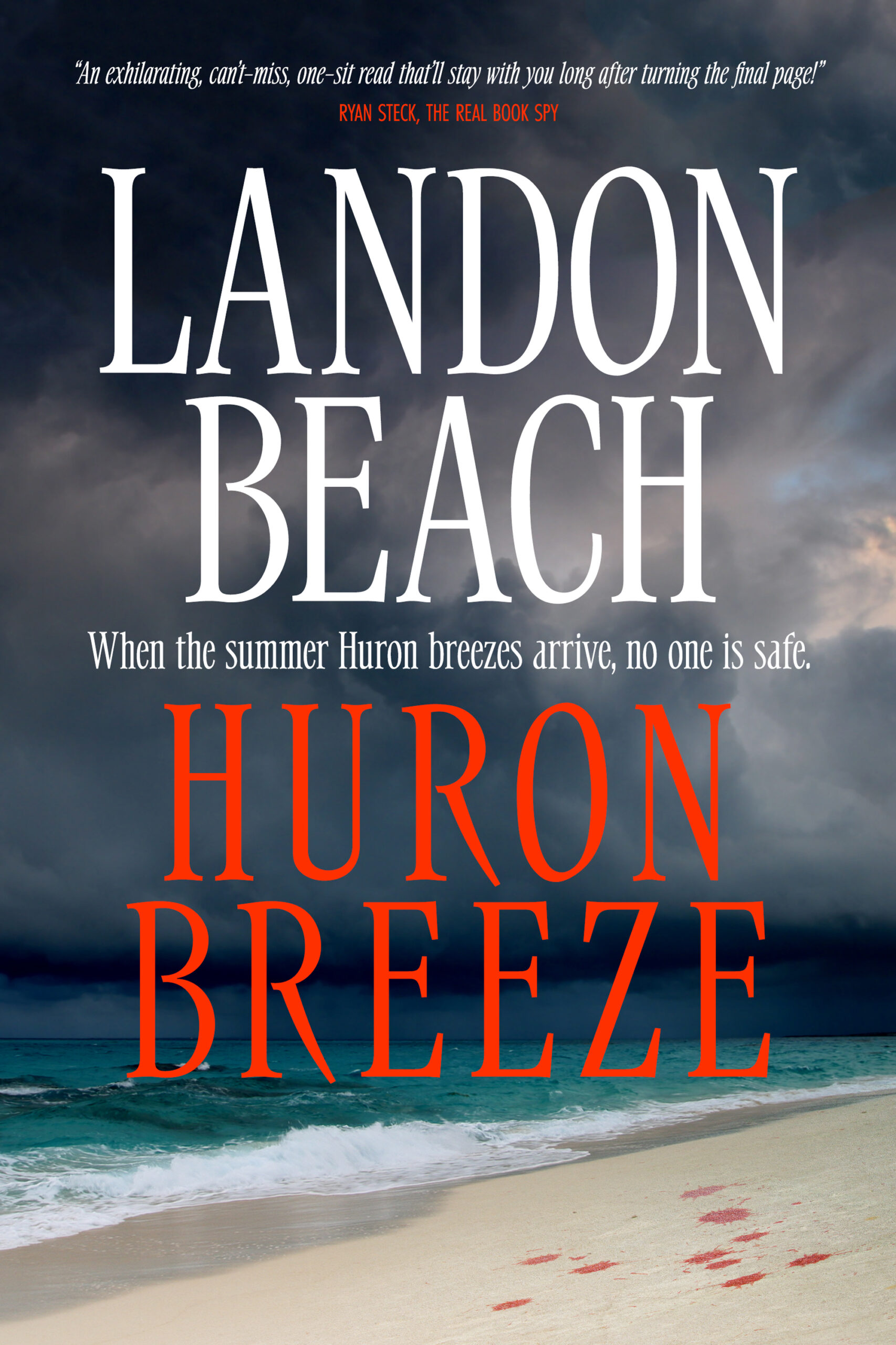 ---
"Huron Breeze is destined to blow the reader away with its sprawling ambition and labyrinthine complexity. Landon Beach's hauntingly realized tale of murder, treachery and deceit strikes at our hearts as well as our minds along a twist-laden landscape. Beach perfectly straddles the mystery-thriller line in a tale that evokes the likes of Michael Connelly and John Hart, proving yet again that he is an author to be reckoned with."
- Jon Land, USA Today Bestselling author
---
"An exhilarating, can't-miss, one-sit read that'll stay with you long after turning the final page!"
- Ryan Steck, The Real Book Spy
---
"The perfect beach read. A truly enjoyable mystery thriller. Bravo, Mr. Beach. Bravo."

- David Dobiasek, "The Voice" of Best Thriller Books
---
"Will helping a PI solve a local murder give a stalled writer the plot for her next thriller? A crazy idea, but it works, but then there's a ruthless killer who knows she's out there. Have fun with Huron Breeze."
- Catherine Coulter, author of VORTEX
---
"It's impossible for a writer not to be instantly taken with this tale of an author so desperate for a plot idea that she becomes an apprentice PI after a man turns up on her beach with a knife in his back. You'll thoroughly enjoy this unique page-turner."
- Lisa Black, NYT bestselling author of the Gardiner & Renner series
---
"A blocked writer in search of her next novel idea teams up with a PI to solve a twisty case in hopes it'll get the words flowing and the book done. C'mon, what's better than that? That's the premise of Landon Beach's Huron Breeze ... and he nailed it. What a fun read. What sharp insights into the floppy muddle of a writer's mind. Loved it!"
- Tracy Clark, author of the Cass Raines Chicago Mystery Series, and winner of the 2020 Sue Grafton Memorial Award
---
"Landon Beach does a fantastic job of propelling the reader along the twisty path he creates in his mystery thrillers, and Huron Breeze is the best yet! I couldn't resist the 'book-within-a-book' premise of a floundering author desperate to find her next novel and ending up embroiled in her own real-life murder mystery! A guaranteed good time." 
- Liz DeWandeler, A Novel Escape in Franklin, North Carolina
---
"Beach has taken a murder mystery, a wickedly satiric look at the publishing industry, the writing of bestsellers, along with a sideways glance at the wealthy in up north Michigan all of which he tosses into a blender and presses puree. The result is a novel smoothie. I have a feeling Landon Beach enjoyed writing this book as much as I enjoyed reading it."
- Tom Powers, Michigan in Books Blog