---
"Action, intrigue, and high stakes drama—just what you want from a thriller. Toss in a little lust and greed, and it's the perfect mix for a classic, on-the-run adventure."
- Steve Berry, New York Times and #1 Internationally Bestselling Author
---
"Landon Beach is the real deal. And The Sail is a top-notch thriller with suspense to burn!"
- Ted Bell, Author, NY Times Bestselling Alex Hawke Series, www.TedBell.com
---
"This book has it all. Landon Beach combines the emotional and heartwarming journey between father and son with a taut, tense thriller set in the hauntingly beautiful waters of Lake Superior. Just when you thought it was safe to get back in the water..."
- Robin Burcell, New York Times Bestselling Author
---
"Having read Landon's first book, The Wreck, I had to read this new one. The author develops both characters and plot in a way that systematically unfolds and draws the reader in. Most of what I read is set in tropical climes, so reading a sailing adventure set in the Great Lakes was new for me. I thoroughly enjoyed this book!"
- Wayne Stinnett, Author of the Jesse McDermitt Caribbean Adventure Series
---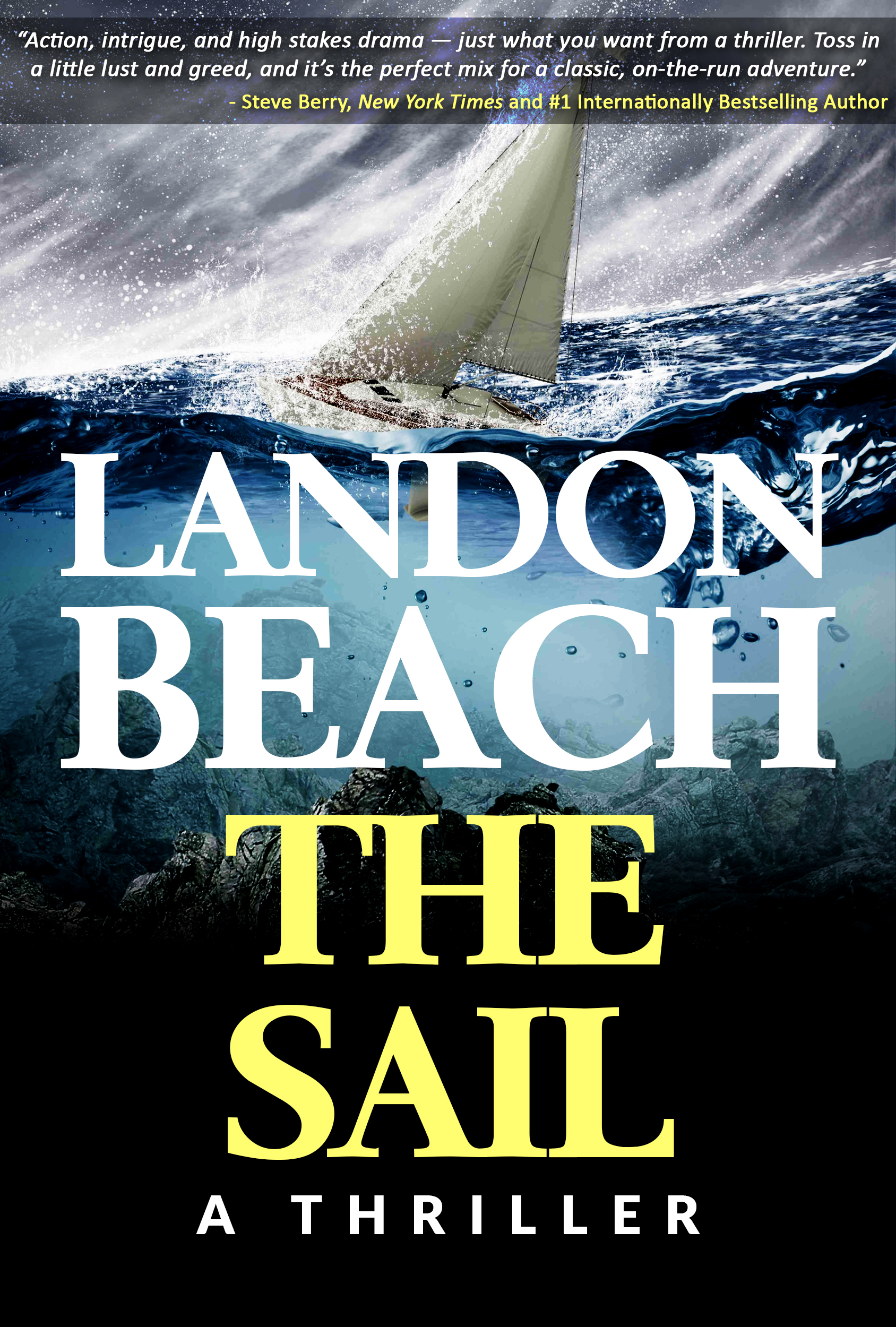 As a picturesque and perfect summer arrives in Michigan, a dying father and his son set sail for one last trip together. Their goal is to sail around Lake Superior, one of the largest freshwater lakes in the world. They hope to reconnect, forgive, and heal.
Meanwhile, a strong-willed and spirited young woman is abducted, disappearing without a trace.
As Robin and Tristian Norris cast off for their adventure, they know that Superior's water is deep and the sunsets are sublime. What they don't know is the peril that awaits them on the remote coastline. When you are far away from home and help, you only have yourself to count on.
What they find will be a nightmare.
It isn't a question of will they survive, but who will survive?
Grab a life jacket and find something or someone to hold on to, it's time to go sailing.
---
"Landon Beach's debut novel The Wreck is a modern-day Treasure Island that keeps the reader turning pages."
– Steve Alten, NY Times & international best-selling author of The MEG and The Loch
---
"The Wreck has tons of fun stuff, like the log of a long-dead lighthouse keeper and flooded caves. Great underwater scenes, with a real sense of place and an action-packed climax that will make you jump out of your reading chair."
- Paul Kemprecos, New York Times Best-Selling Author
---
"For a fun, exciting twist on the greatest mystery in Great Lakes maritime history, The Wreck by Landon Beach is an excellent summer read! Beach has crafted a story full of colorful characters; the bad guys are really bad and the good guys are really great. The Michigan summer cottage experience is perfectly captured, and then enhanced by a gripping adventure aboard boats, on shore, and best of all, underwater. Because the tension builds unbearably, the reader will not be able to turn away from the book and should take care when reading on the beach because of the danger of forgetting to re-apply sunscreen! We're looking forward to more terrific Landon Beach Great Lakes novels!"
– Cris Kohl and Joan Forsberg, well-known maritime historians, founders of Seawolf Communications, Inc., and authors of numerous diving and shipwreck books including The Wreck of the Griffon: The Greatest Mystery of the Great Lakes
---
Nate and Brooke Martin arrive at their summer cottage ready to relax and rekindle their relationship. The beach is warm, the water is cool, and the sea breeze is blissful—just another perfect summer in Hampstead, Michigan filled with wine, bonfires, and beach reading.
Then, on a morning stroll along the beach, Nate finds something half-buried in the sand that turns their quiet vacation into a dangerous unraveling of the past. And the key to solving the mystery may lie within Abner Hutch, a retired Coast Guard Officer and Great Lakes master of the deep—a flawed man with a complicated past and a core wound that will not heal.
As Nate and Hutch search for answers on a remote peninsula, they begin to realize what the mega-rich residents up the coast already know: you can only keep a secret for so long.
And when some secrets get out…there is no turning back.