Dear Reader,
Welcome!  Thanks for visiting my website, and I hope you enjoy the books.
Stand-alone Novel
-Narrator (Psychological Thriller)
Sunrise-Side Private Investigator Mystery Series
-Huron Breeze
-Huron Nights
-The Blue Hour Sanction
-Huron Sunrise (available January 18, 2024)
The Great Lakes Saga
I have always thought that the Great Lakes region, beautiful and rich with history, would provide the perfect place to set stories. My approach for the 5-book saga is to tell one story set on or around each Great Lake. Don't let the different genres dissuade you. The books are all summer reads full of drama, tension, betrayal, murder, lust, romance, mystery, and suspense.
Note: Hampstead, Michigan and Shelter Harbor, Michigan are fictional places—as are some of the islands that I put in my novels to serve the stories—but, if you are from Michigan, they will have a familiar feel.
-The Wreck (Lake Huron-Sea Adventure)
-The Sail (Lake Superior-Sea Adventure)
-The Cabin (Lake Ontario-Espionage Thriller)
-The Hike (Lake Erie-Crime Thriller)
-The Bay (Lake Michigan-Sea Adventure-TBD)
Connect
For NEW RELEASES, DISCOUNTS and UPDATES, join my e-mail list at the bottom of this page.
FOLLOW ME on Amazon, BookBub, Goodreads, Facebook, Twitter, Instagram, and/or Pinterest (links are below).
CONTACT ME directly at [email protected].
Warm Regards,
L.B.
---
HOW DID A YOUNG WOMAN FROM A SMALL TOWN IN MICHIGAN BECOME THE MOST LETHAL ASSASSIN THAT THE WORLD HAS EVER KNOWN? YOU ARE ABOUT TO FIND OUT.
College heptathlete Margaret Crandall is invited to compete for a spot with a secret company to become an elite assassin. While still in the training pipeline, her mentor is murdered attempting to kill the billionaire shipping tycoon, Victor Lars Junius, who is a member of a global criminal empire and attempting to transform himself into the legendary actor Richard Burton.
As a result, Margaret is promoted and given a new name: Adrienne Astra.
Her first mission?
Sanction Junius.
However, a mole at the off-the-books company is already plotting Adrienne's demise.
GET READY FOR AN ORIGIN STORY UNLIKE ANYTHING YOU HAVE EVER EXPERIENCED BEFORE.
If you like high-stakes espionage, action, and endings you won't see coming, then you'll love Landon Beach's tense spy thriller.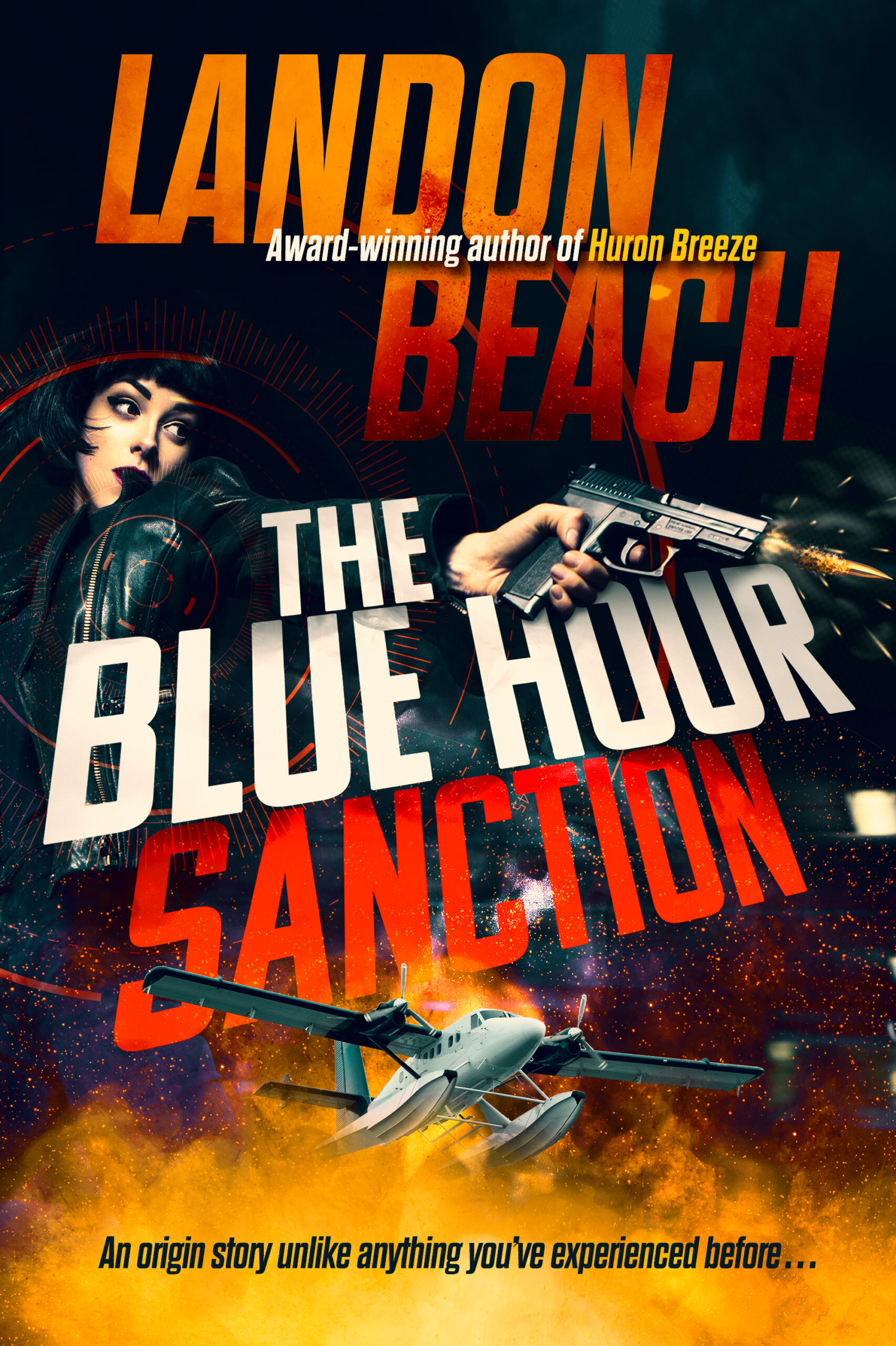 ---
"With its gripping premise and non-stop action, The Blue Hour Sanction delivers a thrilling narrative that will captivate fans of both The Hunger Games and James Bond. Prepare for a wild ride through a world of deadly secrets and high-stakes missions—you'll be hooked from the first page."
—Andrew Watts, USA Today bestselling author of the Firewall Spies series
---
"A fresh take on telling a story within a story, The Blue Hour Sanction dives into the past of one of Beach's most fascinating characters, bringing her to life for a rip-roaring origin story that's different than anything else out there."
—Ryan Steck, The Real Book Spy, and author of Lethal Range
---
"Landon Beach's The Blue Hour Sanction delivers a perfect combination of fastballs, curveballs, and home runs . . . maybe the most lethal female protagonist I've ever seen grace the page. Beach's writing is second to none, and his talent truly shines through in this brilliantly crafted thriller . . . Don't miss one of the best reads of the summer!"
—Stuart Ashenbrenner, Best Thriller Books
---
"Landon Beach's The Blue Hour Sanction is everything you want in a thriller. The vividly imagined, fast-moving plot pulls you along at breakneck speed. Strong writing, nonstop action, stunning twists, and a female lead who will take your breath away. You won't want to put it down."
—Susan Hunter, author of the Leah Nash Mystery Series
---
"The Blue Hour Sanction is my number one fiction read of 2023."
—Wendi Flint Rank, top NetGalley reviewer
---